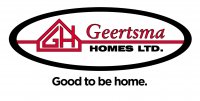 POSTED |
December 18, 2019
Opportunities for Home Builders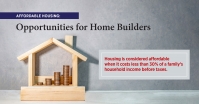 With housing costs making headlines every day, the federal, provincial and municipal governments are working together to spur new affordable housing development.
There are a range of programs available to help home builders with the costs and challenges of building affordable housing. Local housing service managers also have funding to help low-income tenants, which further helps developers secure tenants or buyers.
In combination, these programs mean that affordable housing can be a win-win for both home builders and communities.
STRONG DEMAND FOR AFFORDABLE HOUSING
In Eastern Ontario, there are 7,500 to 9,000 people on the wait list for social housing.
Thousands of families are spending more than 30% of their household income on housing expenses.
The vacancy rate for rental housing in Eastern Ontario is just 0.1%.
Funding for new housing development
As part of the National Housing Strategy, the Canada Mortgage and Housing Corporation offers several funding opportunities, including low-cost loans and grants. Visit www.cmhc-schl.gc.ca/en/nhs to learn more.
Co-Investment Fund (new construction stream)
Provides low-cost loans and/or grants to support and develop mixed-income, mixed-tenure,
mixed-use affordable housing.
Prioritizes projects that support partnerships between governments and private and public organizations.
Covers a broad range of housing needs, from shelters to affordable homeownership.
Seed Funding (new construction stream)
Provides interest-free loans and/or non-repayable contributions to help with costs related to
pre-development activities.
May include business plans, preliminary designs, development permits and more.
Affordable Housing Innovation Fund
Provides funding for innovative building techniques and approaches to affordable housing that create inclusive, accessible communities and help address homelessness.
Rental Construction Financing
Provides low-cost loans encouraging construction of rental housing across Canada where the need is clearly demonstrated.
Provides up to $13.75 billion (across the country) in loans for the construction of 42,500 units and has run from 2017 and will go to the end of 2027.
Service Manager Role
Municipal service managers help people access housing and related supports based on income. However, they are challenged by the shortage of available, affordable housing. If a developer responds to this challenge with a new build, the low vacancy rate in Eastern Ontario assures steady rental revenues.
Service managers administer funds they receive from the province for new construction, rental support and homeownership. Typically, funds from the municipality are allocated to those in the community seeking to meet local housing needs through a Request for Proposals (RFP) process.
Service managers also administer homelessness funding that focusses on preventing eviction and supporting people who are homeless or at risk for homelessness. For a new build with rental units, these funds can be used toward rent for tenants.
Energy Efficiency Programs
Home builders can reduce the operation cost of new builds by using incentives and grants to realize energy efficiencies, such as those available from Enbridge Gas.
Other Supports
Other funding may be available that targets goals beyond affordable housing. Providing supports for social services, accessibility and life skills help low-income households. Service managers can provide more information on these opportunities. Knowing support may be available is important to the decision to build.
A full list of funding programs is available at www.quintehomebuilders.com. For more information, contact local housing service managers across eastern Ontario to learn more about programs available in your area:
United Counties of Leeds & Grenville
(613) 342-3840
City of Kingston
(includes Frontenac County)
(613) 546-2695
City of Cornwall
(613) 930-2787
County of Renfrew
(613) 432-3679
United Counties of Prescott and Russell
(613) 675-4642
County of Hastings
(613) 966-1311
City of Kawartha Lakes
(includes County of Haliburton)
(705) 324-9870
County of Lanark
(613) 267-4200
County of Northumberland
(905) 372-3329
County of Lennox & Addington
(includes Prince Edward County)
(613) 354-0957
City of Peterborough
(705) 742-7777