Lumber producers are cutting back, a signal that higher interest rates are taking root
Growing number of Canada's largest companies cite softening demand

Author of the article:

Gabriel Friedman

Publishing date:

Sep 20, 2022 • September 20, 2022 • 3 minute read • Join the conversation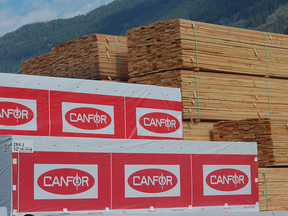 Canfor is cutting back production in British Columbia as the price for lumber continues to decline.
Lumber prices shot up early on in the pandemic in what proved to be a bellwether for rising inflation: stuck inside, many homeowners spent big on new decks, fences and other renovations and the increased demand for wood caused prices to take flight.
Economists often use that example to explain how pandemic policies such as social distancing created ripple effects in the economy, including a shift in consumer spending from services — think dining out or seeing a concert — to durable goods, which resulted in price inflation.
If lumber was an early indicator of where prices are headed, then the central bankers who are now trying to beat back the hottest inflation since the 1980s may take heart in recent signals coming from the lumber market.
A growing number of Canada's largest producers, including Canfor Corp. and West Fraser Timber Co. Ltd., recently announced plans to scale back production in British Columbia, citing softening demand among other factors.
"We are temporarily curtailing production in British Columbia due to reduced market demand," Don Kayne, chief executive of Vancouver-based Canfor, said in a press release on Sept. 19.
The company said it expects annual production to drop by 200 million board feet, or an estimated six per cent of its annual capacity in B.C., where Canfor's disclosures indicate it has around three billion board feet of annual capacity.
Canfor's news follows West Fraser's August announcement that it would "permanently" curtail production at several B.C. facilities by eliminating shifts at several sawmills and plywood mills throughout the first quarter. It estimated the cuts would decrease wood production by an estimated 255 million board feet.
Both announcements tie into a multi-year trend in which B.C. lumber companies have been reinvesting their profits overseas, particularly in new operations in the southern United States.
That's driven in part by the effects of climate change: Record wildfires in 2017 and 2018 destroyed huge swaths of forest and added to losses caused by the explosion in populations of mountain pine beetles, which also decreased the volume of available wood supply in B.C. Add in the flooding in 2021 that wiped out key transportation corridors, and production costs rose.
As West Fraser said in August, "access to available timber is an increasing challenge in British Columbia and ongoing transportation constraints have impaired the company's ability to reliably access markets."
Still, some analysts believe Canfor's statement about softening lumber demand may signal that rising interest rates in the U.S., Canada and elsewhere are beginning to have the desired effect of cooling demand and thus tamping back inflation.
The Bank of Canada raised its benchmark interest rate by three percentage points between March and September, and probably isn't finished. Statistics Canada on Tuesday said the consumer price index increased seven per cent in August from a year earlier, cooler than recent peaks of around eight per cent, but still well outside the Bank of Canada's target of two per cent.
"Last week, I met with a bunch of home builders, and they're seeing their order file drop by 30 to 40 per cent year over year," said Paul Quinn, an RBC analyst who covers Canfor and other lumber producers. "So there's no question, interest rates are definitely cooling the economy."
Renovation Requirements in the 2025 National Codes

The provinces and territories have flagged "alterations to existing buildings" as the top priority for the 2025 editions of the national codes. Given the potential impact of proposed requirements for renovation, CHBA staff and members are participating in the technical committees developing provisions for the 2025 editions of the national codes. The first set of provisions will focus on energy efficiency. While there can be benefits to consistent requirements for renovations, new energy-efficiency requirements for renovations could have the potential to increase costs substantially and drive renovation activity into the underground economy. With code committees now working on the long list of technical issues associated with the energy-efficiency provisions published in the 2020 national codes for new homes, CHBA staff and members are urging code committees to ensure that any new requirements for renovation are risk-free before publication. In this CHBA / Canadian Contractor podcast, CHBA's Director, Building Science Frank Lohmann discusses the concepts, implications and timing behind national code requirements for alterations to existing buildings. Contact Frank Lohmann to find out more.

Impacts of the Renovation Industry in Canada

CHBA's latest Economic Performance Review of the residential construction industry indicates that in 2021, there were a total of 1.44 million jobs created in residential construction. With about 59% of the total number of jobs being concentrated in the renovation sector, the importance of the sector is clear. Renovation work resulted in $56.5 billion in wages and $102.4 billion in economic investment in 2021. The pandemic highlighted the importance of our homes more than ever and many decided to renovate their existing homes to meet their evolving needs. A recent survey found that most homeowners (59%) are planning renovations to their current home within the next two years. Renovation is anticipated to continue growing over the coming years, driven by the turnover of older homes in densely populated markets, the aging of the housing stock, and the desire of older-age individuals to age in place. These statistics on the industry help CHBA demonstrate the importance of the residential construction industry and advocate for you with federal, provincial, and municipal governments.

12 Renovation Categories: Housing Awards

The CHBA National Awards for Housing Excellence recognizes the best in new homes, renovations, community development, and residential marketing. This year there are 12 categories that renovators can choose from, whether you've renovated and entire home (or a good portion of the main living areas) or have done single room renovations, including kitchens, bathrooms, exteriors, and basements. There's even a catch-all single room category for other types of rooms like libraries, wine cellars, home gyms, or offices. To enter you will need photos of your project, a homeowner permission form, and you'll need to answer some basic questions about your home renovation to impress the judges. The entry deadline is October 17th @ 6pm ET. Find all the information here.

Member Promo on Social Media

From company spotlights to informative blog posts, CHBA's social media highlights the expertise of renovator members from across the country, especially on Facebook, Instagram, and Twitter, make sure you and your company are following us! If you have an interesting story with great photos and are interested in being showcased on the CHBA social platforms, including the RenoMark social media accounts, you are encouraged to contact CHBA's communications team or send us a direct message through social media.

Renovator's Corner in Building Excellence

CHBA regularly includes a column for renovators in its quarterly magazine, Building Excellence. The print publication is mailed to all CHBA members, and the digital edition can be found online. Last issue included information about minimizing the risk of wildfire damage to existing homes, based on information for wildfire resilience that was developed by FireSmart® Canada, the Intact Centre for Climate Adaptation (University of Waterloo) and the University of Alberta, with collaboration from CHBA. For more information, check out the digital edition on page 18.
Other News:
N.B. receiving less than nothing on softwood pulpwood after Crown timber royalty changes – CBC News