Four-unit development recommended
Belleville, ON, Canada / Quinte News
Oct 4, 2022 | 4:48 AM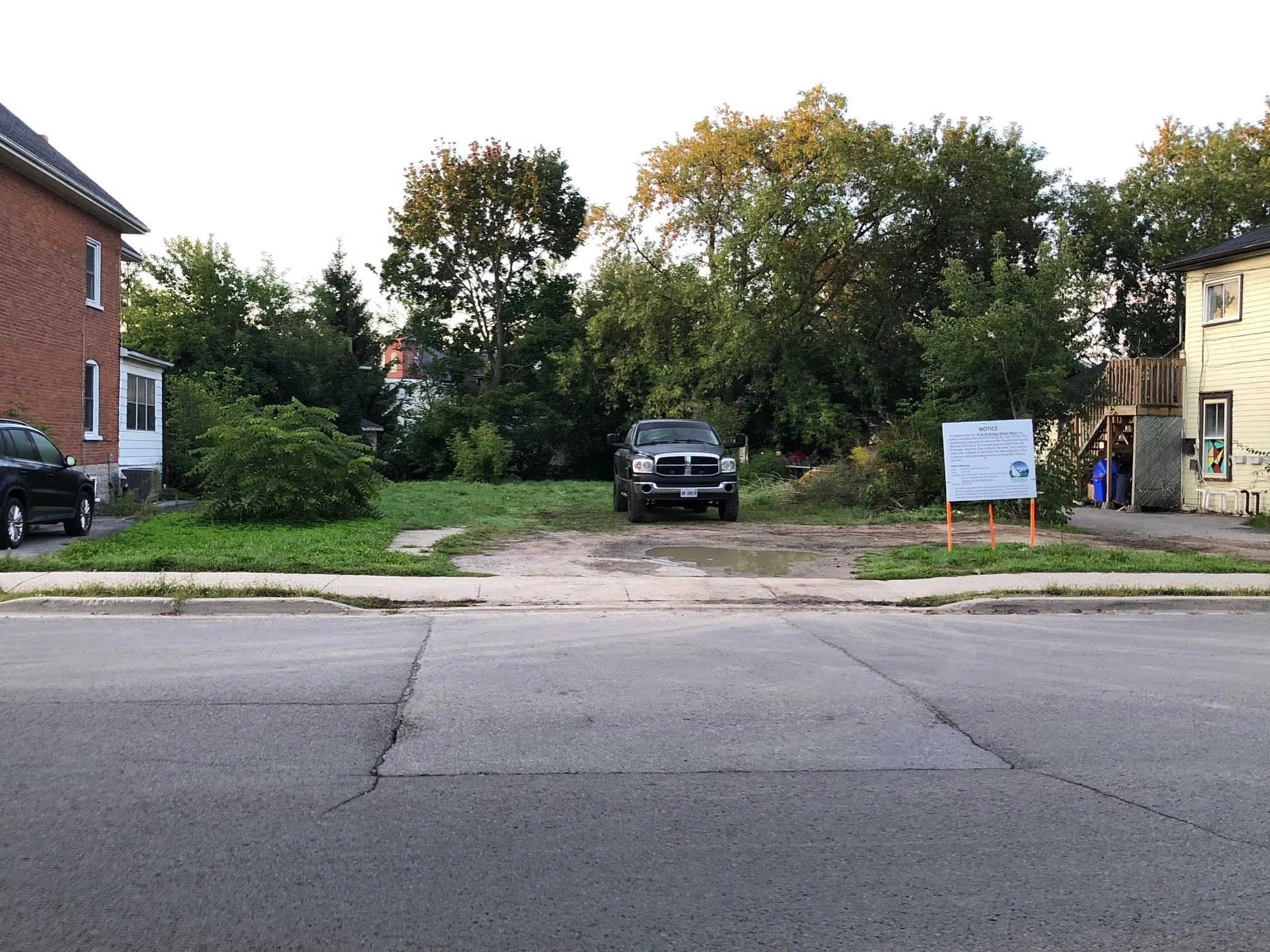 83 and 85 Bridge Street West Belleville September 2022. (Photo: Quinte News)
Belleville's Planning Advisory Committee is recommending city council approve zoning changes allowing a small multi-unit residential building on two vacant lots in an older west end neighbourhood.
If council gives its stamp of approval a developer will build a single semi-detached home containing a total of four apartments on vacant property at 83 and 85 Bridge Street West.
The lots are located just up from the John R. Bush Funeral Home.
Massive building permit for a massive building
Belleville, ON, Canada / Quinte News
Oct 4, 2022 | 6:04 AM
City of Belleville site plan for 640 College Street East. (Photo: City of Belleville Planning Advisory Committee agenda)
The City of Belleville has issued a building permit for an over one million square foot light industrial warehouse at the end of College Street East.
The property is at 640 College Street East and construction value of the building is estimated at $135 million.
It's unknown who will actually run the huge warehouse which will employ 800 to 1000 people but it's a well-known international company and widely rumoured to be Amazon.
The building permit was issued September 27 and the fees paid to the city will be around $1.7 million.
Partial settlement gets Mohawks 300 acres of Culbertson Tract
Author of the article:

Jan Murphy • Local Journalism Initiative reporter

Publishing date:

Oct 03, 2022 • 23 hours ago • < 1 minute read • Join the conversation
Jan Murphy
Local Journalism Initiative Reporter
TYENDINAGA MOHAWK TERRITORY- The Mohawks of the Bay of Quinte announced a partial settlement with the federal and provincial governments on Monday morning that will see nearly 300 acres of the Culbertson Tract returned to the reserve.
Chief R. Donald Maracle and federal Minister of Crown-Indigenois Relations Marc Miller jointly announced the settlement, which also sees the MBQ receive compensation for loss of use of more than $30 million from the federal government and $315,000 from the province.
Bigger, bolder, higher: Vancouver's push for density has builders rejigging their plans – The Globe and Mail
When the Broadway Plan was approved, Vancouver developer Zack Ross now had the potential to build a 20-storey building, instead of a five. Cape Group had already spent about $2.9-million in pre-construction costs, but he was hoping it would be easy enough to change the plan, since it fit with the City's mission to generate more rental housing. He's scrambling to keep up with increasing production expenses and uncertainty of how long it will take to get approved is also making it difficult to supply the market with more rental housing. [I]f there were existing renters, he says it would be problematic to redevelop because of the City's enhanced tenant protections policy, which requires that developers top up the rents of displaced tenants while they rent elsewhere, and then offer them an opportunity to return to the new building at the same rent they'd been paying, or a 20-per-cent discount on citywide average rent, whichever is less. Commercial realtor Mark Goodman says that it's a major obstacle. "The plan will not encourage redevelopment of RM-zoned areas."
Commentary: Canadian cities need to wisely build in, up and out, and create more missing-middle homes. Municipalities will need to be encouraged, through the Housing Accelerator Fund, to pre-zone for gentle densification as well as mid-rise and high-rise height density. And when it comes to affordable housing, it will be important that municipalities not introduce policies that drive up the cost of market-rate housing and/or dissuade development entirely. CHBA has advocated extensively for the federal government to take a leadership role by working with provinces and municipalities to address challenges to construction of market-rate housing supply. To learn more, please see CHBA's Unlocking the Door to Homeownership – 2022 Recommendations on the Federal Role.